Mail forwarder from the U.S.
Have your U.S. mail sent to you
Your U.S. mailing address
If you would like to receive regular mail, such as letters and magazines, in addition to packages, sign up for the OPAS premium (package & mail) plan and obtain almost any type of mail correspondence. Your account becomes a convenient virtual mailbox!
OPAS notifies you via email when the OPAS team receives mail on your behalf. You can log in to your account and request shipment at any point within the 60-day storage period. For sending your mail to most countries, OPAS offers international shipping via UPS and, DHL. A consolidated shipment with packages is also possible.
Mail forwarding service options
In addition to the mail shipment services, OPAS provides scan, discard and shred services. OPAS scans the document and uploads the scanned file (PDF) to your secure OPAS account. Unfortunately, we cannot offer a scanning service for items that may contain sensitive information, such as checks, gift/credit/debit cards, or PINs. However, we will be able to offer a shipping service. 
*Please also note some mail items may be opened to determine whether it is a mailed correspondence or merchandise purchased from a store so that we can adequately register, sort it, and check shipping regulations. Discarding and shredding services are free of charge. 
*OPAS will be able to offer shipping services as long as there are no restrictions for the item(s) that you wish to ship in the country of destination.
Click on the link below for service fee details.
Step 1
The mail forwarding service is available for premium members only. If you are currently a free plan member, you can change your membership plan from your account profile page.
Step 2
Submit PS Form 1583 and your ID through the online submission form.
For OPAS to receive mail on your behalf, you must complete PS Form 1583 (application for mail delivery through an agent).
The submission form can be found in the mail forwarding service option section under the account profile page.
OPAS only accepts mail for family members that submit a complete PS Form 1583 and provide two pieces of ID.
Step 3
Have your mail delivered to your OPAS address.
Your OPAS address can be found on your account page.
Please contact senders about your address change or submit a change of address form to USPS to make sure your mail will be delivered to OPAS.
Note:
Mail with an incorrect or incomplete address may be returned to the sender or delayed in registration at OPAS. (Your mailing address must include your 5-digit member ID.)

Mail addressed to a non-member will be returned to the sender. (We will not receive mail for your family members unless they are registered as your shared member.)
Step 4
Your mail will be delivered to OPAS.
OPAS will register your mail as an item and send you an email notification. (You can check your registered items on my mailbox page.)
Advertising mail and merchandise catalogs will not be registered but will be discarded.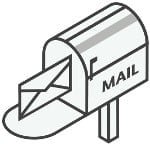 Step 5
Submit a shipment request.
In addition to shipping, we provide a scan, discard and shred services. Please click here for more information.
You can log in to your account and send us a shipment request within the 60-day period.
Your mail items stored at OPAS will be discarded automatically after 60 days of storage if there is no contact. There is no storage fee for mail items.
Note:
If you wish to combine your packages with mail items, please submit a shipment request for mail items and packages during the 60-day storage period.
Insurance is NOT available for mail forwarding service as mail items have no customs value.
Step 6
Make payment.
OPAS will calculate your shipping rate depending on the weight, destination country, and shipping method. Please use our Shipping Calculator to estimate. 
Step 7
Your mail items will be shipped.
An email notification containing important information such as your tracking number and final charge will be sent to you.
Step 8
 Your mail items will be delivered to your shipping address.