Providing Reliable, Affordable International Shipping Solutions and Package Forwarding Service for over 30 years!
OPAS' founder and President, Toshiyasu Abe, started his company in 1990 with the idea to make the process of purchasing products from the US much easier for potential buyers in his native Japan. At that time, international commerce was a much more complicated undertaking for an individual consumer. There were few options for personal import, and most didn't need or want to buy bulk quantities of items and ship them by slow-moving ocean freight.
Additionally, because the Internet was nowhere near as advanced as it is today, most consumers in countries outside the US had very few resources to even determine what sort of products they could order and how to make these purchases – everything was mail order, a laboriously slow process compared to the point-and-click online shopping of today.
So with a big stack of catalogs, a fax machine, and a lot of hard work, Mr. Abe built a company that enabled Japanese customers to buy from the US. In time, his business expanded to serve most countries around the world.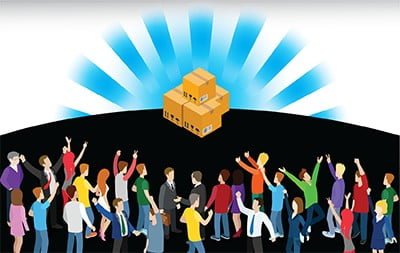 Kaizen, Personal Attention and Package Forwarding
As it was then, so it is today: OPAS is still an innovator in the continually developing field of international Package Forwarding. Relying on the Japanese business principle of Kaizen (constant improvement by a cycle of planning, execution and review), Mr. Abe continues to lead his company in providing the best possible service for our thousands of international members.
Despite our growth, Mr. Abe has never forgotten the time when it was just a phone that connected him with OPAS' first customers – he spoke with them regularly, began to learn about them and forged strong relationships in business.
To this day, we at OPAS pride ourselves on being the company that provides the most personal attention and detailed service for the varying needs of our members. We serve all kinds of members. Some are simply looking to buy the newest trendy shoes or the latest electronic gadget that's not available in their country. Others are entrepreneurs ready to purchase in-demand stock for their own customers from the U.S. or Japan. OPAS serves their members as a reliable and flexible shipping partner.
International Shipping, Personal Shopping service and Beyond!
OPAS is more than a package forwarding service. We connect you with your favorite brands, hobbies, and trends all over the world. We help you shop for the life you want, anywhere in the world. To keep up with all the latest developments in the package forwarding industry, check out the package forwarding blog!
We thank you for your interest in OPAS, and it is our sincere hope that you will choose to become one of our valued members.
---
Contact OPAS
Phone: 1-503-262-7036
Fax: 1-503-262-7037
E-mail: service@opas.com
Monday-Friday 9:00 am – 5:30 pm (Pacific Standard Time)
Saturday, Sunday and Holidays Closed