Smaller US Stores: Ship to Foreign Shoppers with Package Forwarding
Yesterday the New York Times ran an article describing how stores like Macy's and J-Crew are learning to ship to foreign shoppers by offering international shipping through their websites. What the article didn't touch on was smaller US stores, which may not have the same resources to devote to international shipping as giants like Macy's, but face the same problems when trying to reach foreign shoppers.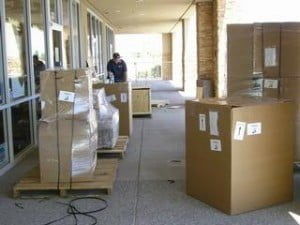 Smaller US stores can ship to foreign shoppers, too. Smaller stores can use package forwarding to offer international shipping, often more quickly and easily than larger stores.
International Interest in US Stores
Macy's president, Kent Anderson, is quoted in the Times article as saying Macy's gets "a lot" of international traffic to their website. It's not surprising that the big guys get international recognition, but smaller US stores get a ton of international traffic, too.
If you're the owner of a smaller US store, use a tool like Google Analytics to get a picture of where your internet traffic is coming from. Foreign shoppers might not always tell you they're interested in buying–but that's because they don't see a realistic way to make a purchase from your site.
In fact, if your store sells unique, customizable, or hard-to-find items that bigger retail chains don't carry, you might get an even larger percentage of international visitors than stores like Macy's.
Make International Shipping Easy
The Times article mentions the difficulties US stores face when offering international shipping–ordering systems, customs, and postal fees. Larger US stores like Macy's and Nordstrom use expensive ecommerce platforms and localized website solutions to address these issues.
But smaller US stores without a lot of resources to devote to international shipping can use package forwarding to reach international customers with almost no adjustments to their current payment or shipping systems.
Smaller US stores use package forwarding to process international shipments the same way as domestic ones. They simply take an international customer's order, send it to the forwarding company's US warehouse, and the forwarding company takes care of all customs, shipping costs, and overseas shipping procedures.
Smaller US Stores Reach More Customers with Package Forwarding
Even though yesterday's New York Times article was about larger US stores like Macy's, there are still important takeaways for smaller US stores:
There is definitely international interest in your online store!
Don't discourage this interest by not giving foreign shoppers a way to buy from your website
Even though there are obstacles to international shipping, there are easy solutions. Package forwarding is that solution for smaller US stores.
If you aren't shipping internationally yet, don't feel bad. Even Macy's said it was still learning how to best reach its overseas customers.
So, consider this your chance to get a step ahead of one of America's biggest retailers.