Every now and then, we like to take a look at a case study from our actual operations here at OPAS. When we do this, we will not reveal any information about the customer in question in order to protect their privacy, but we do want everyone to see what benefits are available through OPAS membership, and how we're using the principles of Kaizen (constantly seeking improvement) to help reduce your shipping costs!
Let's take the case of Ms. K (as we said, not her real name!): Ms. K, as you can see, has received and consolidated in her mailbox quite a goodly number of packages – 12, at the time of this repackaging.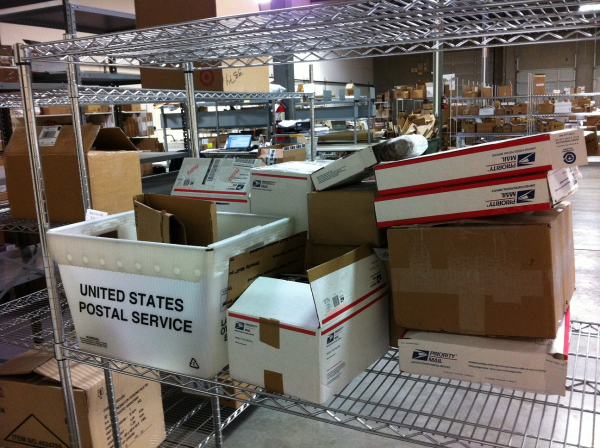 Let's take a look at the raw numbers involved in this shipment, especially the dimensional weight of each package (remember, dimensional weight is computed by multiplying the 3 sides of a package together and dividing by 139!)
Packages:
12x14x2 (3 packages): dim 3 each. Total dim 9.
11x15x6: dim 8.
12x2x3: dim 1.
14x12x8: dim 10.
9x11x6: dim 5.
15x7x9: dim 7.
9x7x5: dim 3.
9x5x2: dim 1.
7x7x6: dim 4.
11x9x6: dim 5.
This means the total dimensional weight of Ms. K's shipment would have been 53 lbs., if all of these boxes were just sent as-is in a single shipment, without repackaging. This dimensional weight figure means that 53 lbs. is the least that could be billed for a shipment weight, even if the total scale weight of the items was much less.
Once our repackaging team has minimized the shipment, though, this is what it looks like: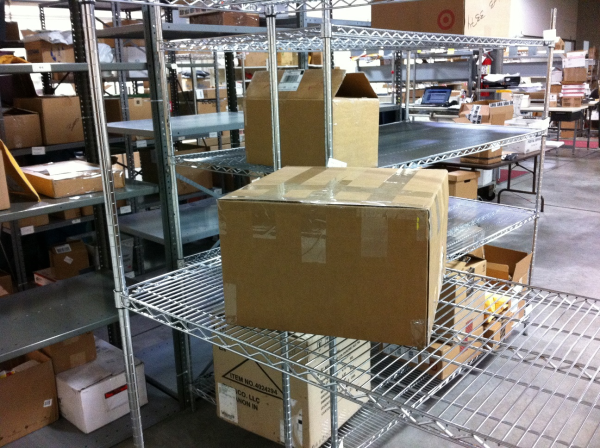 Wow! That's a single package of 25 lbs. scale weight, and 21 lbs. dimensional weight. We eliminated the dimensional weight overage, and ensured that shipment cost is based on scale weight, and therefore absolutely minimal.
From a dimensional shipping weight of 53 lbs. to a scale shipping weight of 25 lbs., our repackaging process has cut the billable weight of this shipment by more than half, a total of 28 lbs. of shipping cost reduction.
Based on where Ms. K happens to live, we calculate that is a savings of about $120 USD in shipping cost, just based on our already low OPAS rates. If Ms. K had to pay international shipment cost for each of the 12 packages individually, it's hard to say how much she would have had to spend.
With our expert repackaging service, OPAS is always looking to save you money on your international shipping costs!