Halloween is only a month away. Have you and your little one chosen Halloween costumes yet? Although Halloween traditions didn't start in the United States, it is a very big deal. Children dress up and trick-or-treat around their neighborhoods, and older kids and adults attend costume parties around this time. The costumes, decorations and food are a big part of these celebrations. On top of that, these traditions are growing in popularity around the world.
Pottery Barn Kids
http://www.potterybarnkids.com/sho  p/halloween/?cm_type=lnav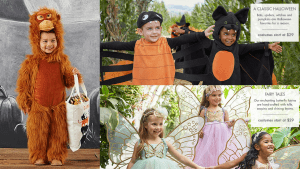 Older kids often like to wear popular characters, like Disney princesses or Marvel Avengers, but littler ones look extra cute in traditional costumes that can be shared for years. Ghosts, spiders, witches…These are great outfits for getting the cutest photos opportunities.
Pottery Barn Kids has very high quality costumes that are safe and durable. Along with the Halloween classics, you can find their hip WWF animal series as well as the fuzzy and warm dinosaur and dragon get-ups. These are great for Halloween, but also for just playing pretend, and they won't likely be put away after the 31st.
Williams-Sonoma
http://www.williams-sonoma.com/shop/halloween/?cm_type=gnav
When people think Halloween, they think Halloween candy. But the Halloween eating is more, and it's easy to impress with some decorations and kits you can find at Williams-Sonoma. They have a very good reputation for high quality housewares and kitchen goods. The Williams-Sonoma Halloween Collection has expanded in recent years to include some amazing treats and bakeware.

Home Depot
http://www.homedepot.com/b/Holiday-Decorations-Halloween-Outdoor-Halloween-Decorations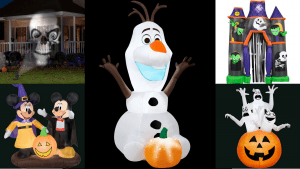 Outdoor decorating used to be mostly a Christmas tradition, but these days outdoor decorations for Halloween are becoming more extravagant and exciting. Trick-or-treaters get an extra thrill from animated decorations often equipped with light and sounds. Houses with extra special decorations also have a reputation for extra special treats, so brave souls will venture through zombies and graveyards for their candy reward. Outdoor decorations don't have to be creepy, though. Homes attracting younger revelers will use goofy setups to bring in the little goblins.
Home Depot is most famous for tools and building supplies, but this time of year it is hard to miss their giant Halloween section. From giant inflatable pumpkins to animated light shows, Home Depot carries a wide variety of weatherproof outdoor decorations.
Order soon to make sure you are prepared for October 31! And you will save big on shipping when you consolidate your orders with OPAS.