Earlier this week we discussed how eager Apple fans can use package forwarding services to get the iPad 2 before it comes to market outside the US. But for those not ready to jump the gun, or who are simply wary of the new tablet's premium price tag, the iPad 2 has created a great opportunity to pick up a device very similar to the iPad 2: the original iPad.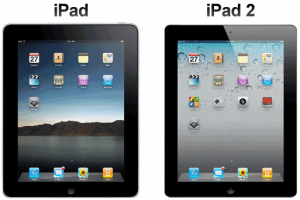 Sure, the iPad 2 is thinner, faster, and lighter. But does it really need to be? The first iPad was already thinner, faster, and lighter than any other tablet computer on the market. And thanks to the release of its successor, the original is now available at deeply discounted prices.
Apple themselves are selling the first-generation iPad for as low as $399. (The same model iPad 2 is a hundred dollars more.) But the original runs the same apps and has the same basic functionality as new version. If you're not the kind of user who demands the extra features of the newer model (the dual cameras, for example), the first-generation iPad may in fact be a smarter choice.
There is also an abundance of cheap second-hand iPads for sale now that many people are wanting to upgrade. According to the Financial Times, price quotes for iPads on eBay's buy-back service for popular electronics have recently jumped 800 percent, and iPad sales through traditional auctions are up by 4,400 this week. The average price of an iPad on eBay is now down to $484. (Higher than Apple's price only because the average includes higher-end models.)
So, what's faster than an iPad 2? An original iPad, send to you right away. No need to wait in line–package forwarding members can get a cheaper iPad, faster, today.
Which device is right for you? iPad? iPad 2? Or another competing device? Tell us your preference and we'll help you get it to your country!