Galaxy Tab Is Still Available Via Package Forwarding, Despite Court Ban
This is a follow-up to the news item from three weeks ago, in which a German court threatened to ban sales of the Samsung Galaxy Tab 10.1 in Europe. The court case was brought against Samsung by Apple, who claimed that the design of the Galaxy Tab too closely matches that of the Apple's iPad.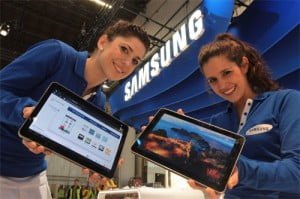 On Friday, Apple won the court ruling, which means that the sale of the Galaxy Tab is now legally banned in Germany.
Consumer Choice Severly Limited
Samsung issued an email reply in which it said that the ruling "severly limits consumer choice in Germany."
But that doesn't have to be the case. True, if you're in Germany and in the market for a tablet, your choices for buying in Germany just got smaller by one.
However, if you take a few seconds to register for a package forwarding account, your consumer options will increase by a few thousand.
How to Get a Samsung Galaxy Tab In Germany
The Galaxy Tab is still selling strong–in the US market. If you have a package forwarding account, you can buy a Galaxy Tab from the US, at one of hundreds of stores that carry them.
Not only that, but the cost of the device when buying from US stores is significantly less than it ever was in Germany, anyway. By buying a Samsung Galaxy Tab from the US, you're not only getting around the ban, you're getting the item you want at a much better price.
Whether it's an unavailable product or an unfavorable price point, package forwarding will let you buy anything you want from US stores.