Where can you get…
Your very own lightsaber?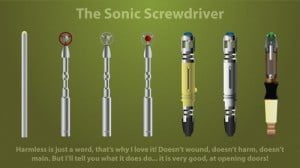 The various sonic screwdrivers of the various Doctors?
A Mr. Potato Head styled after Iron Man? All of these wonderful toys, doodads and knickknacks can be found at Thinkgeek.com.
If you're at all interested in buying the items they sell, odds are good you may have heard of them. We just want to make sure, as the OPAS staff has a special place in our hearts for the fun merchandise from franchises you know and love on sale at this super-store of geek chic.
The US has always been a wellspring of popular culture and entertainment that the rest of the world enjoys (and when we don't invent it, such as with Doctor Who, we sure do merchandise it!) and these days so much of that content is focused on what might be called "nerd culture." Comic books, video games, and science fiction/fantasy TV and movies were once considered rather un-hip, but these days, people in the US and all around the world can't get enough of it!
Luckily, Thinkgeek.com is a good choice for the international buyer. They can accept international credit cards and PayPal, and can ship internationally. However you'll still want to use an OPAS address to save on those shipping costs and sales tax. Our consolidation feature will allow you to combine your geeky treasures with other purchases you've made online, or multiple orders from the same store. If you're anything like us, you'll find yourself bouncing back and forth between sites like this to pick up "just one more thing…" Impulse buying can lead to a huge stack of international shipping bills, so send it all to OPAS first to be combined into one neat shipment!
So whether you're interested in a wall lamp modeled off a Minecraft torch or a molds that will let you make ice cubes in the shape of the Death Star, you can find it at Thinkgeek.com, and OPAS can help you get the goods!